Luxury Vinyl (LVT) Overview and Advantages
Luxury Vinyl (LVT) Overview and Advantages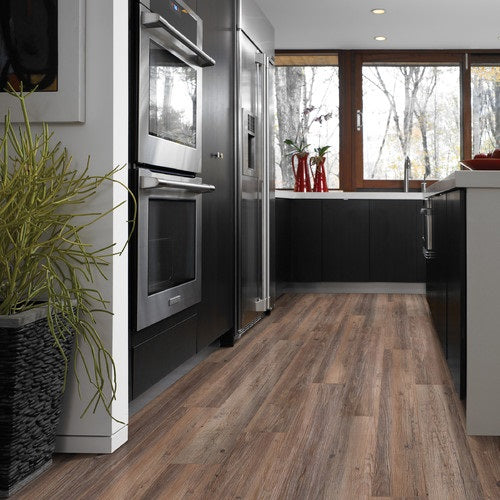 Ease of installation, carefree maintenance, overall durability and value ... with all these great features and a great price, vinyl can't be beat.
Its rugged versatility and waterproof characteristics account for its widespread use in kitchens, bathrooms, family rooms, dens, playrooms, finished basements and workshops. Vinyl stands up to moisture, heavy household traffic, and the active play of children and pets.
No matter where you install vinyl, you can wipe away scuff marks and food spills with a damp paper towel! Now, that's easy clean-up.
Available in high-fashion designs made possible through innovative manufacturing techniques, today's vinyl combines a luxurious appearance and cozy, foot-cushioning resilience to make a truly elegant - and comfortable - floor covering.
It's vinyl like you've never seen it before! The look of vinyl has changed drastically in the last few years, making your design possibilities limitless. Along with traditional and contemporary fashion colors and geometric patterns, vinyl is now available in natural wood and stone looks. The remarkable variety of decorator designs makes it more practical than ever for your home's formal as well as casual settings.
Remarkably realistic, vinyl flooring that reflects the timeless beauty of wood and stone retains all the other traditional advantages of vinyl, including low maintenance and affordability.
Let your imagination run free. Vinyl's newest looks were created to expand your decorating plans without expanding your budget.
All these elements make a difference in how your floor will look. Don't forget to check out Installation to learn all about the little details.
.